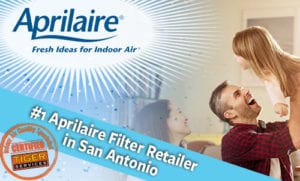 Tiger Services has always taken pride in providing the absolute best air to homes in the San Antonio area. It brings our company nothing but pride and happiness to be the #1 Aprilaire filter replacement retailer in San Antonio! For years Tiger Services has delivered exceptional indoor air quality with Aprilaire to San Antonio residents time and time again.
The proof is in the air! When you can breathe easier and have clean air restored to your home, there is no reason to ever settle for anything less. The Aprilaire 210 filter removes allergens and odors from your living space and are 99.97% effective! To make sure you're getting the right filter, Tiger Services offers a wide range of filters to choose from that are specially designed to maximize the performance for your unique air system.
The best part of it all is that because Aprilaire is locally sourced in their San Antonio warehouse, Tiger Services can conveniently get you the right air filter for your system with ease. It's our job to take the hassle of replacing your filter out of the equation so that you are left with clean, cool and healthy comfort. In no time, our certified Tiger experts are able to replace your existing filters with Aprilaire 210 filters with ease.
With Aprilaire filters near me in San Antonio 78216, why wait for cleaner air, when you can experience the quality of Aprilaire today? In fact, you can add a whole house filter to your current system now with Tiger Services. We specialize in indoor air quality service and installations because we know that protecting your family is important to you. Our certified team of experts is qualified to help troubleshoot any issues with your current system and provide the solutions you need.